Three Pretzels You Must Try in Germany (The Ultimate Pretzel Guide)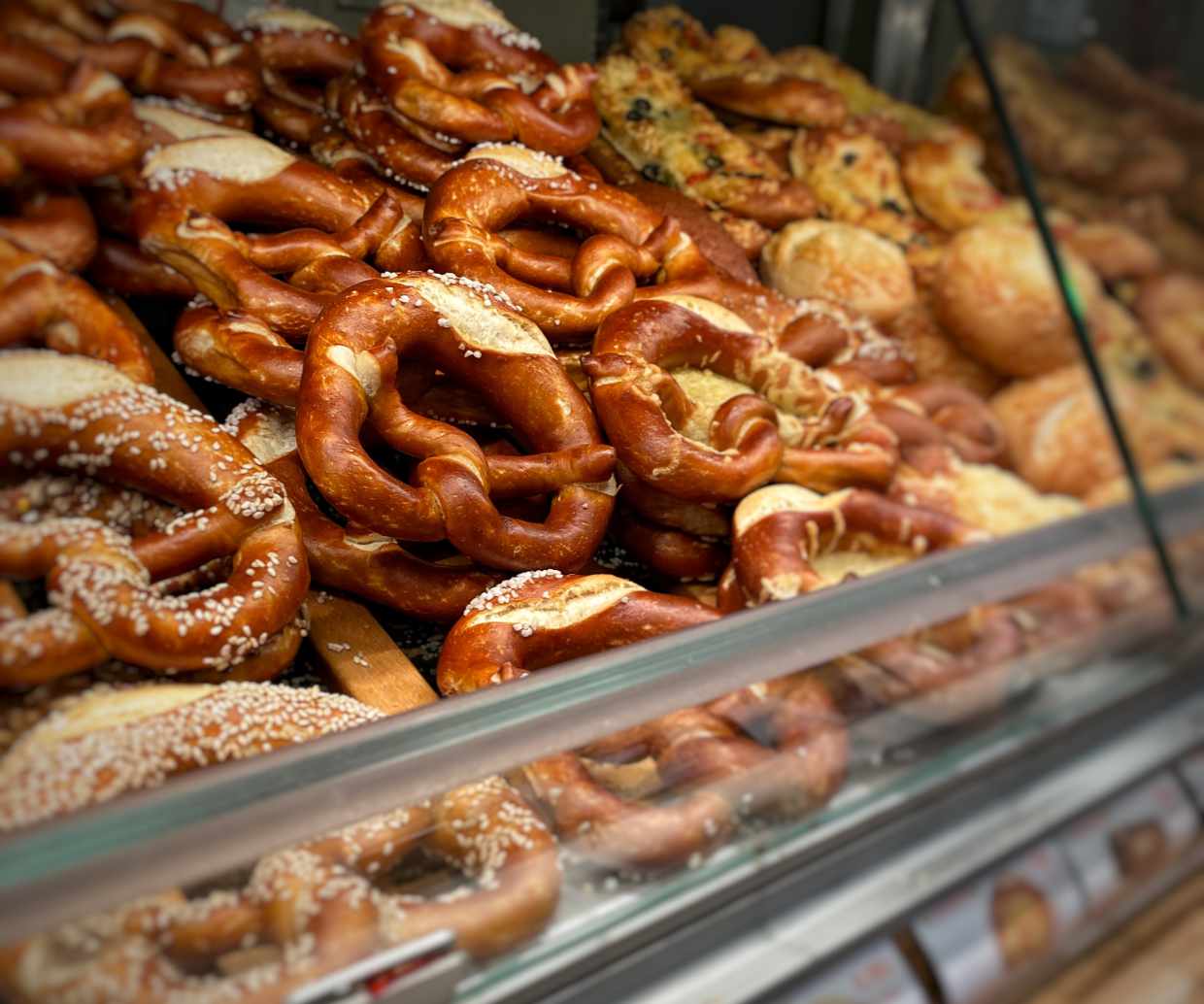 After living among the Germans, partaking in their bakeries and travelling around the country, there is one empirical truth that I've observed: They eat a lot of pretzels.
You'll find pretzels in every corner of the country: train stations, grocery stores, convenience stores, climbing gyms, restaurants, and bakeries, of course. They're about as common as Coca-Cola, although I've yet to encounter a pretzel vending machine.
Everyone loves pretzels. You'll see children in the street with the last bite of a pretzel in their hands. Climbers will grab a pretzel at the front desk when they get to the gym. Every bakery in the country is stocked with pretzels, and this is a happy truth for me.
💡
Pretzel translates to Bretzel in German.
At this point, Zach and I have been in the country long enough to call it home and have adopted some German habits and tastes as a result.
Namely, we love pretzels too.
I don't know what we'll do when we move away. Germany and Austria are the only countries that do pretzels justice. Cross the border to any other European country, and those salty, soft, warm pretzels disappear. It's a crime.
Nonetheless, our obsession with pretzels has a benefit for you. With a wealth of German bakery experience and high standards, we have compiled the ultimate podium: Germany's best pretzels.
1st Place - Studio Bloc Bouldering Gym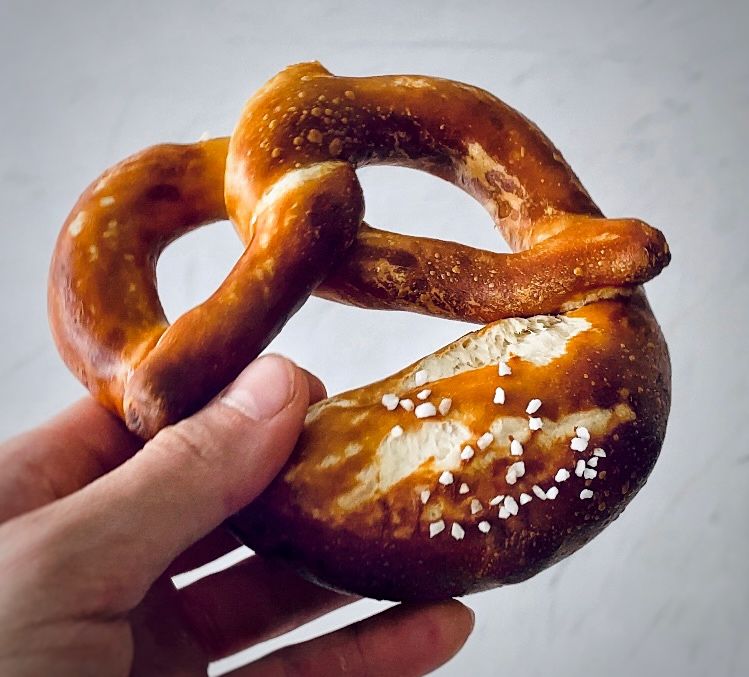 I know, I know. A climbing gym is at the top of the list. Just hear me out.
Studio Bloc is of the most outstanding bouldering gyms in the world. Zach and I moved to Germany for this gym, after all. Located just south of Frankfurt, Studio Bloc attracts the best climbers from around the world every year at the renowned Studio Bloc Masters competition. But make no mistake - it's a gym fit for beginners and professionals alike.
This isn't about the gym, though. It's about their pretzels. The Studio Bloc pretzel is like none other. They make their pretzels in small batches because the demand is far less than your average bakery. This is good news because it means you have a great chance of catching a warm pretzel. If you aren't so lucky, you probably weren't far off and will still get a very fresh one.
💡
Warm pretzels are always better. Even a sub-standard pretzel can blow you away if it's warm.
But you can get lucky with a warm pretzel anywhere. The real magic is the taste. Studio Bloc has a unique flavour for their pretzels. It's subtle yet distinctive, and it's my favourite part of the whole experience. What exactly makes them so addictive? It eludes me. It's one of those can't-put-your-finger-on-it tastes,
These pretzels leave you wanting more, yet you can't find them elsewhere. It's a dangerous duo, but at least they have two locations!
The pretzels are also perfectly sized, which I appreciate. There are some monstrous pretzels out there, like the ones from Rischart. It's too easy to buy a 700-calorie pretzel accidentally. The Studio Bloc pretzel is perfect for the climber about to start, finish, or crave a snack for the road.
The best part of any pretzel is the thick bottom loop. It's always my first bite. Studio Bloc's loop is incredibly generous. Proportionate to the rest of the pretzel, it's the largest bottom loop I've encountered. It's such a delight.
And even after it's gone, the rest of the pretzel holds its own. Each bite is soft, thick, and tender.
It's all perfect. Studio Bloc, you're perfect.
2nd Place - Ditsch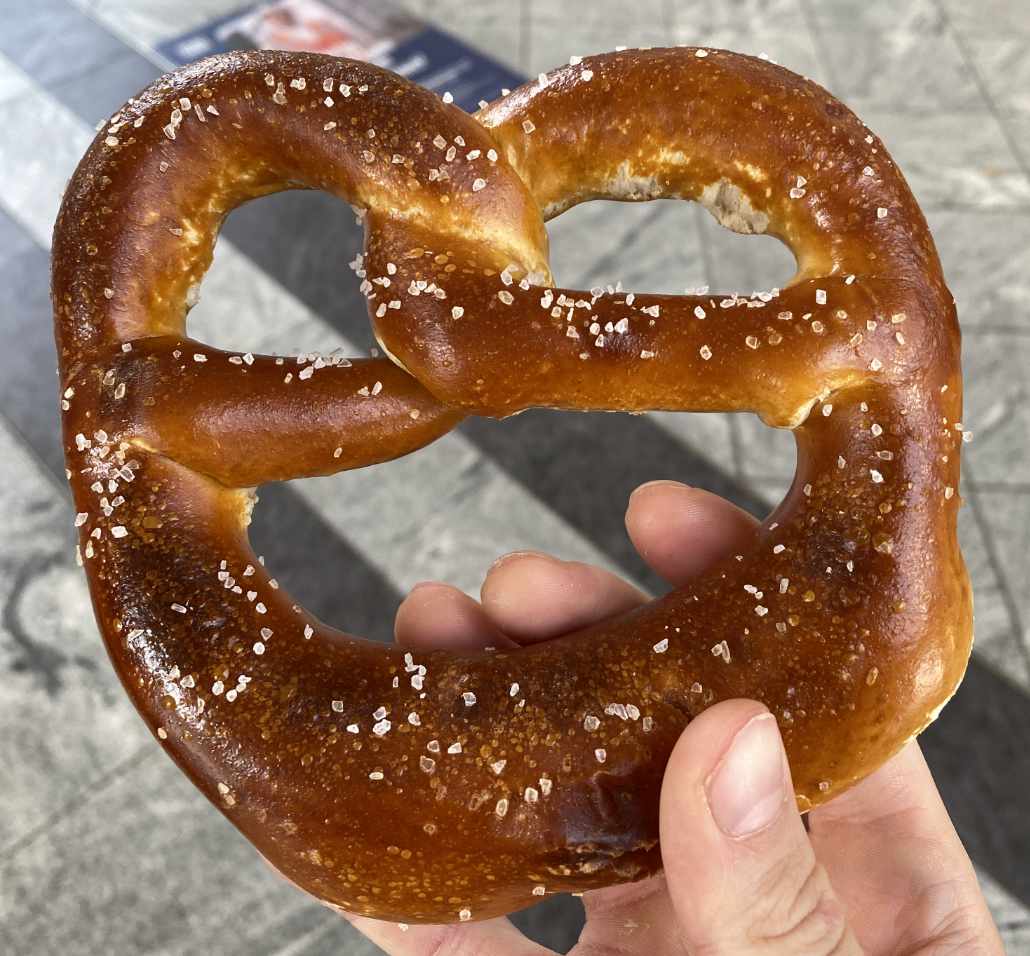 Ditsch is the only bakery that I've encountered with consistently warm pretzels. The first time we tried a Ditsch pretzel, Zach and I were gathering data for this article at the Darmstadt Central Station - a hub of bakeries. As we were choosing which to try, I told Zach that a travel blog said Ditsch typically serves warm pretzels.
We'd ordered other items from Ditsch but never the pretzel, so we gave it a shot. I've never gotten a warm pretzel from a bakery, so I was skeptical. Sure enough, the pretzel we bought from them was warm!
Depending on the location, Ditsch positions their pretzel oven right behind the display so that you can see raw dough up top, steaming hot pretzels at the bottom, and a pile of golden brown, ready-made pretzels in front. It certainly makes authentic German pretzels that much more authentic.
While it didn't have some unique Studio Bloc taste, the pretzel was delicious and fresh. They use finer salt (which I haven't seen anywhere else), there aren't any thin sections, and the thick loop is up to my standards.
Two thumbs way up.
3rd Place - Schäfer Dein Bäcker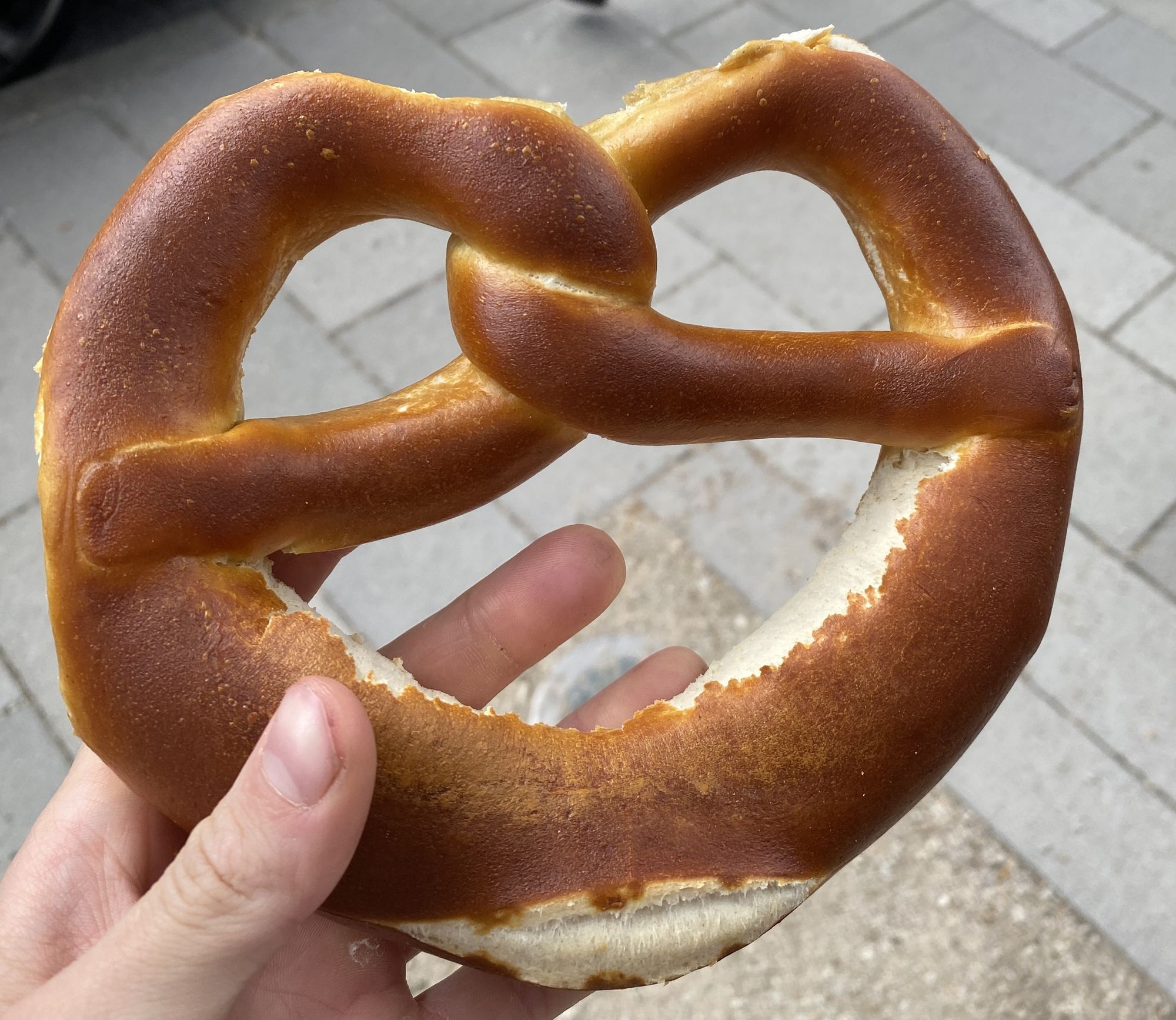 Apart from a pretzel stand at the airport (which you should never settle for), Schäfer was the first German bakery Zach and I ever set foot in together. It was also Zach's first experience in Germany.
Schäfer is the bakery to get your sweets: cake, pastries, cookies, and even sweet pretzels. That said, they do the original pretzel well.
Schäfer is one of the only bakeries that prepares salt-free pretzels. Don't get me wrong; I like salty pretzels. I just don't want a bite with 20 chunks of salt. Oftentimes salt is overdone, and the pretzel is salty enough as is. (That's why I appreciate fine salt at Ditsch). At Schäfer, you have options.
The Schäfer pretzel is unique in its softness. While all soft pretzels are soft, Schäfer takes it to another level. There's virtually no crunch on this pretzel, and it's fantastic. I can't tell you how disappointing a dense, dry pretzel is.
Well, it's not that disappointing.
Schäfer bakes fresh, airy pretzels. Though I've never gotten a warm one, each one tastes like it was made within the hour - not a hint of staleness.
---
While we reviewed at least a dozen pretzels to assemble this dream team, I'm sure there are still more, better pretzels out there. Ditsch came close, but none have touched Studio Bloc yet. I've dedicated myself to taking down the king, so don't worry - Zach and I won't quit until we've sampled all the major pretzel bakeries (within a reasonable distance).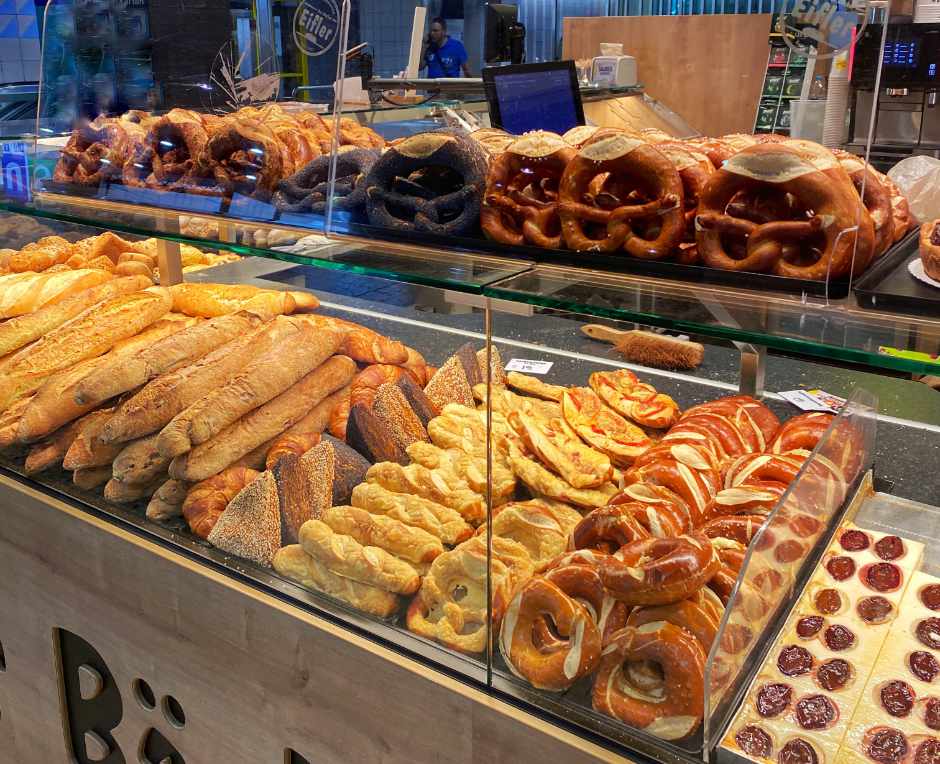 Until then, this is the podium. If you're in Germany, do yourself a favour and visit at least one of these places - none will disappoint.